ABOUT Jan
---

--- Dubrovnic, Croatia ---------- Mt. Cook Glacier, New Zealand ------------- Rotorua, New Zealand -------------------------------------- Walls of Ston, Croatia------
---
Why do I love pictures?
Photography makes beauty immortal. beauty speaks to the soul. Beautiful faces, beautiful places, beautiful moments.
My passion is to make every client look and feel beautiful – and yes, that includes you. When you look at your pictures, they will take you back to a beautiful experience in your life - in an instant - and make you feel wonderful.
Documenting my own life through pictures reminds me of places I've been and experiences I've had with friends and family, that I'd otherwise often forget. My pictures are my most treasured possession. Are yours?
I fell in love with portrait photography when I was 13 and took a few portraits of my 2 year old cousin by our lake. I was fascinated by how her sweetness and innocence radiated from the picture. The old saying is so true: A picture is worth a thousand words. Maybe more.
Children grow so fast. I delight in capturing the new-ness of a newborn baby and every stage thereafter for parents – who are often former wedding clients. Being part of documenting family history, from the moment it's created at a wedding ceremony, is such a joy and honor. It makes me so happy that most of my clients continue to document their lives though my pictures.
I am inspired by beauty around me – in everything from flowers to old architecture. An avid world traveler, with the next trip always in mind, I relish the adventure of exploring a new country and the creative refreshment of a new experience.
I've traveled to a very random list of countries, camera in hand, of course - including Albania, Kazakhstan, Uruguay, Croatia, Philippines, New Zealand, Australia, Russia, Italy, Guatemala and Haiti – and hoping to add a few more soon! I enjoy comparing travel notes. Where is your favorite destination and what is your favorite memory from that trip?
Being outside soaking in the beauty of nature is my happy place, from the beauty of a beach in Hawaii, to walking under the cherry blossoms. I love to cook, bake, garden, chalk paint just about anything (I'm running out of unpainted furniture), read in my hammock, and spend as much time as possible with my adorable nephews and nieces in Florida, who are growing up way too fast!
While my degree from Asbury University is in Business Administration with a minor in Economics, I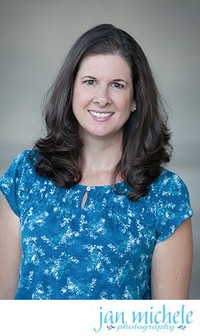 also graduated from the Washington School of Photography. I grew up in Florida, went to college in Kentucky and landed in DC because of my interest in making a difference on issues I'm passionate about. I spent 2 years working at a think tank, and 6 years working for a Congressman from Kansas, before finding my way back to my first love and starting jan michele photography in 2005.
And most importantly, I'm thrilled to be your photographer! Together we'll write your story in pictures.
---