HAPPY CLIENT'S REVIEWS
---
Katherine + Chris
Jan,Thank you so much for all your hard work to perfectly capture our wedding. I do not know how I found you, but I am so thankful that I did. Your attention to detail and organization ensured that we took all the pictures we wanted. And you kept us on a timeline - both on the day of the wedding and afterwards to allow us to enjoy our album by Christmas.
But what truly made you stand out was your caring nature. You scouted locations for us in Old Town, and constantly made sure we were comfortable and understood the process.
Thank you so much for everything! I feel so lucky to have you as our photographer and will recommend you to anyone I can!
Thank you again!
Katherine and Chris
Megan + Jared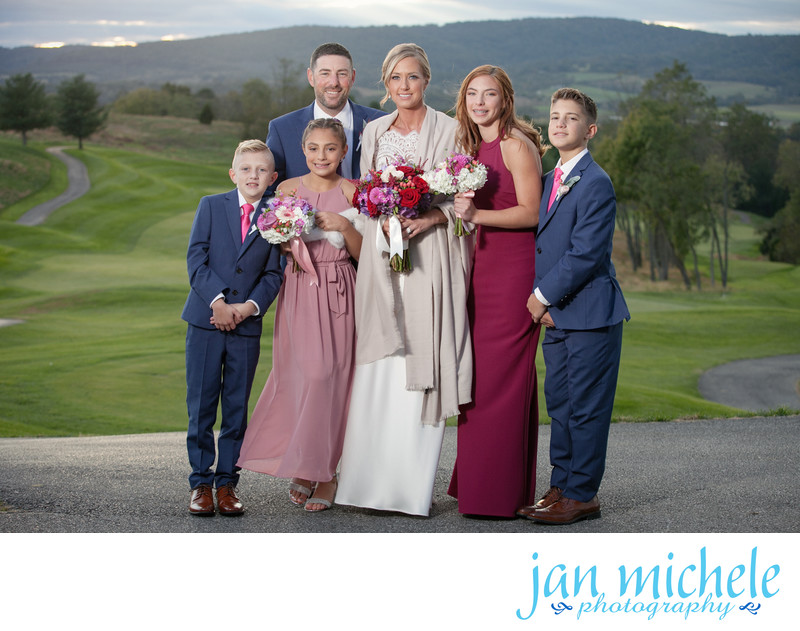 I have known Jan for many years, and she has photographed my wedding as well as family photos with our kids. Jan's eye for detail is exquisite. She is calm, professional, warm, upbeat, and creative. She deserved a literal award for her patience with difficult family members during our wedding, and I'd nominate her for another award for her flexibility with kids in extreme weather during our family shoots. Her organization during the planning stages of our wedding really helped put me at ease - the photos were of utmost importance to me as I am a former photographer myself and I have high standards, and I had every confidence in Jan. She went above and beyond and all of our photos are outstanding! I can't recommend her strongly enough, regardless of your photo needs.
Katherine + Steven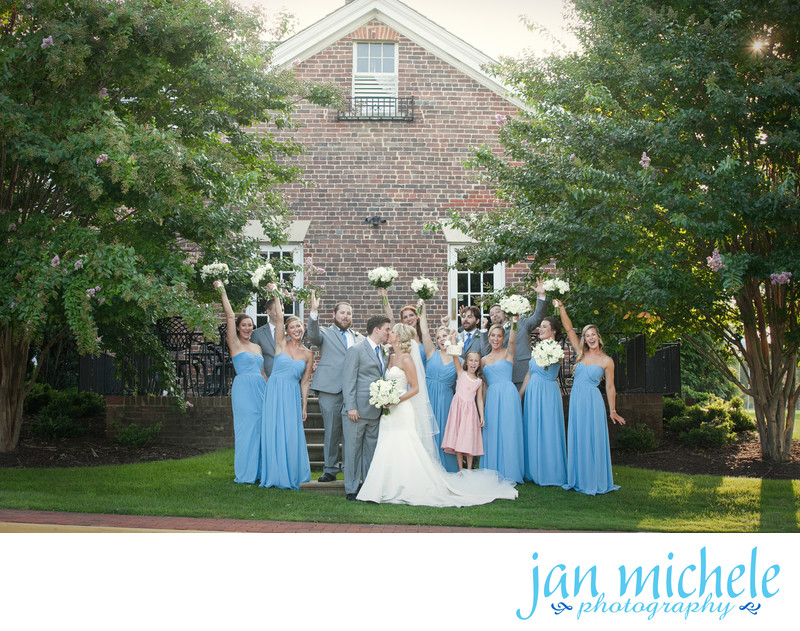 Working with Jan was an absolute DREAM! She was willing to frequently meet with my husband and me in person or over e-mail many times leading up to the wedding. She even sent over a detailed itinerary with times attached to ease our wedding day jitters! On the day of, Jan was very professional and kept the day moving smoothly. She made my husband and I feel so comfortable and confident. During our first look, she was positioned far enough away to give us privacy, but the pictures still turned about AMAZING! We hope to work with Jan again on future family pictures.
Brette + Dan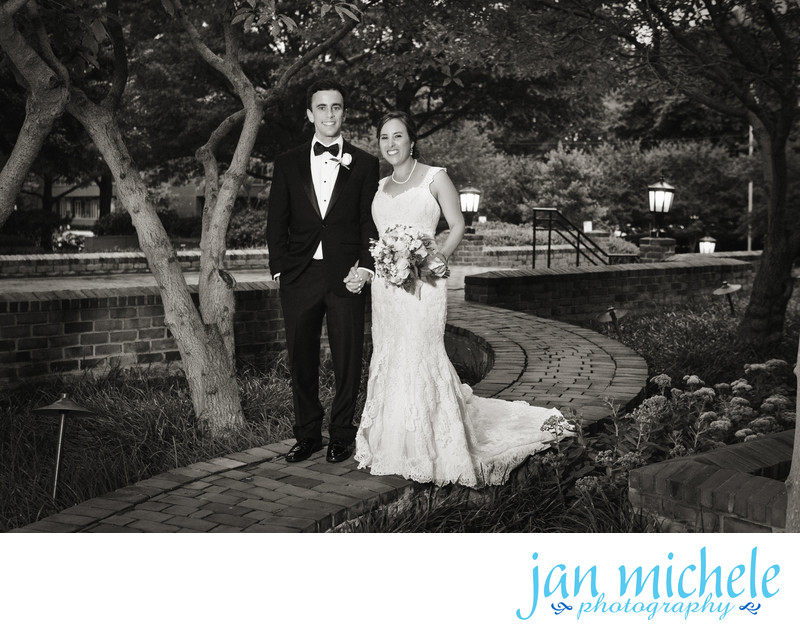 After meeting with a variety of photographers, Jan was the clear standout from the group! She went out of her way to make us feel comfortable, which is really more important than I realized in a photographer. Her work is absolutely beautiful, and I appreciated that her packages included tangible products instead of just the digital copies because I know that I'd never make the album if I had to do it myself!
Theresa + Chris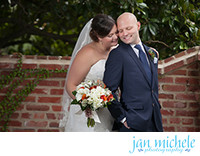 I can not even begin to tell you how happy we were with Jan's work as our wedding photographer. She is the most professional, timely, responsive, and engaging photographer to work with. She knows what poses/pictures she wants and makes sure they happen
We were so happy to see her work and the final product of our wedding album. Jan captured every beautiful moment of our wedding from our engagement photos up to the last dance and final moments leaving our reception.
She was an absolute pleasure to work with and takes a great interest in her clients. She sent sweet and meaningful gifts to us throughout the process and was very fast in processing our photos.
I would recommend Jan to anyone looking for a good photographer and we will most certainly be using her in the future to capture all of our other "first" family moments.
Jan presence during our wedding was very genuine and helpful and she became someone I looked forward to seeing!
Zen + Derek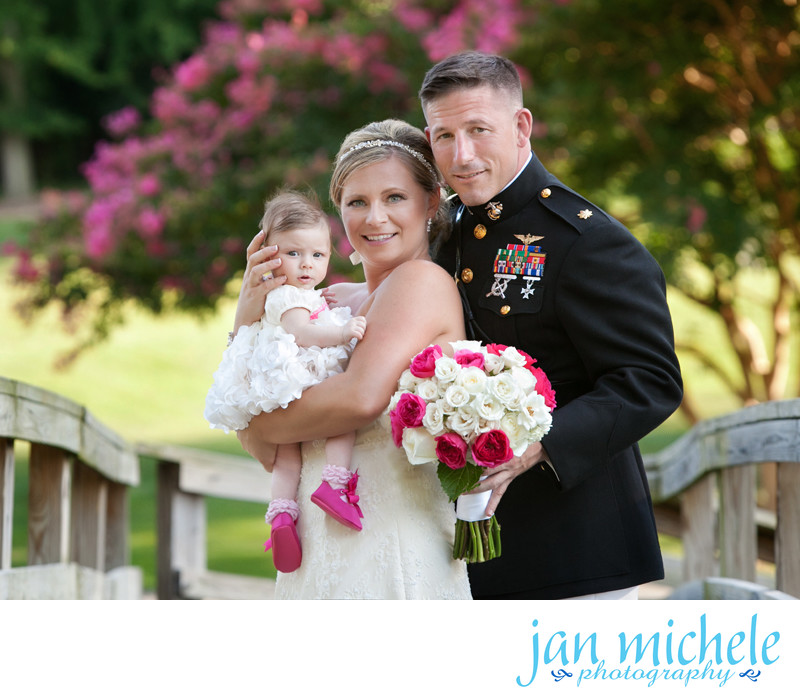 Jan's craft is phenomenal and her talent rivals the best photographers I have ever had the pleasure to see their work, and I have traveled the world far and wide and have seen some impressive exhibits worldwide.
Her amazing talent is only matched by her warm and kind personality and extraordinary ability to understand a couple's unique story of love. Jan sees the beauty and love in a couple's story in the most authentic way and brings it to life in photographs that evoke so much emotion and joy. Jan's capacity to capture those authentic raw beautiful moments that highlight that family's story, values, what they hold dear the most and even sweet vulnerabilities that are endearing, is awe inspiring.
I have found a friend in Jan, a kind, PATIENT loving human being willing to lend her ear and offer up kind words of encouragements and common sense and support. Her commitment, incredible focus and loving care kept our process flowing towards a beautiful love story we now have on our coffee table every day at a time in our lives when I was a busy mom who's just had a baby, just got married, returned to a stressful job and just plain did not want to be photographed or find the time to create our wedding album. Jan's patience and warm heart helped me through a stressful yet incredibly blessed time of my life and the moments she had captured and wove into our beautiful love story are breathtaking and better than I would have ever imagined.
Our wedding took place three months after I had our beautiful daughter and I was not feeling my "wedding ready" best. Jan made me feel comfortable, beautiful and confident. She worked with my doubts, reticence to be photographed and made me feel incredibly beautiful. I look at my album today and what I see is sheer unadulterated joy, love and BEAUTY above all. I never thought I would look this beautiful three months post partum on my wedding day, and nor did I ever think for one second that I would have a wedding right after having a baby but our day was more beautiful and heartfelt than I could have ever dreamed of. Jan was a big part of lifting me up and showing me the beauty that exuded from those special moments. It was perfect. I wouldn't have had it any other way and look forward to many more special moments for Jan to capture as our family grows.
Our entire family on both sides loved Jan and admired her talent. Apart from being blown away by the beautiful art she creates, we love being around Jan and feel so welcome in her home.
Tamara + Brian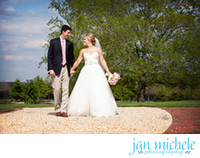 Jan,
Thank you so much for all that you did to capture our special day- it has been so nice working with you and making the decision to go with you as our photographer was one of the best decisions that we made throughout the planning process. Thank you for helping us select each of our vendors (I think all of our vendors were your suggestions!), keeping me organized with wedding timelines and deadlines :), your professionalism, friendliness, and attention to detail, the beautiful engagement pictures in DC and for capturing every detail and special moment on our wedding day. Our wedding day was straight out of a fairy tale and you were a major contributor in making our day so special.
Tamara and Brian
Ashley + Will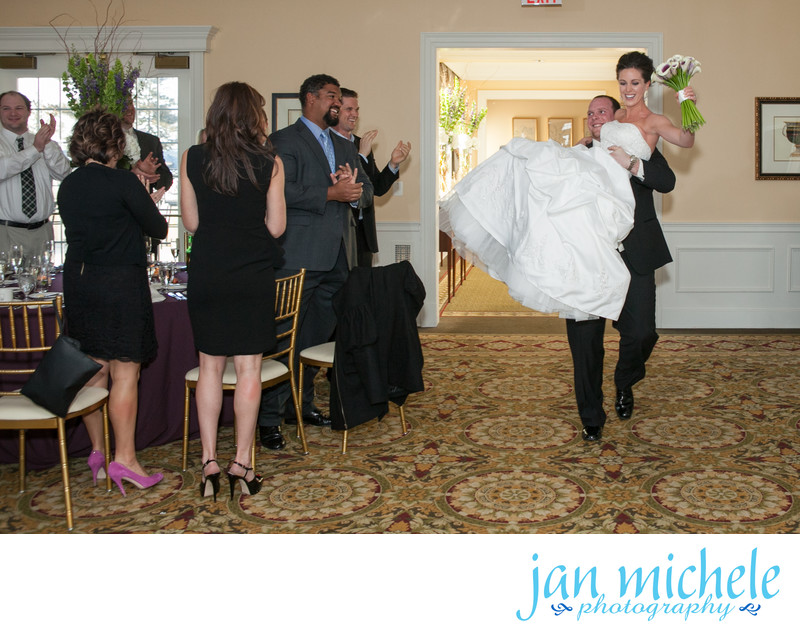 Jan,
We really cannot thank you enough for the out-of-this-world job you did capturing our special day. I have shown so many of our family members our monster album and they are blown away. Everyone comments on how professional you were and how the photos and album are works of art. Our parents love their albums, I'm so happy we chose to do those.
I really believe that choosing you to be our wedding photographer was the best decision I made for the entire wedding (Other than marrying Will!) ☺ You are really the best and I more than appreciate all that you have done for Will and I.
Love,
Ashley
Laura + Trevor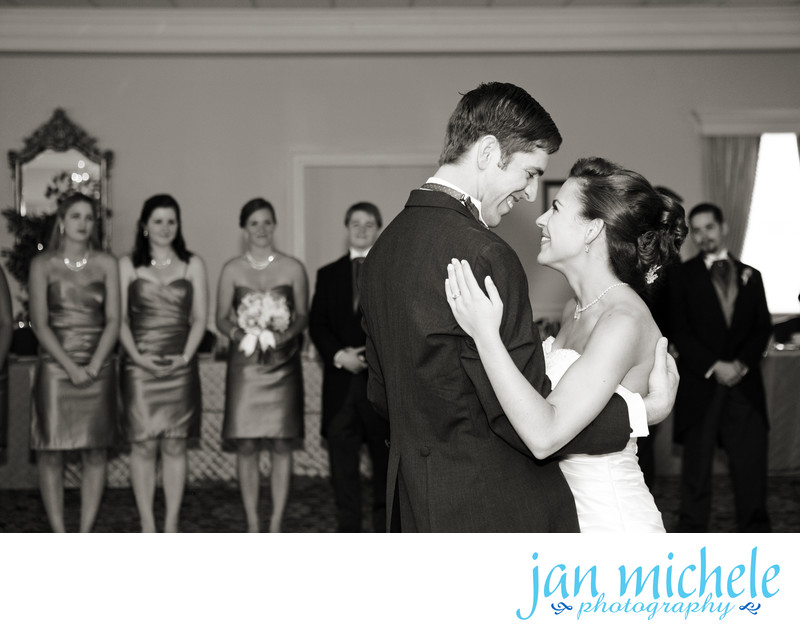 Dear Jan,
How can we thank you enough for all you've done for us this year. From your first sweet note, to every "check in" e-mail, you've been nothing but kind and understanding to us. You've dealt with our student schedules through compassion, as well as a significant amount of flexibility o your part – even in staying up late many nights plan out our day. Thank you for all the late evening visits, the speedy e-mail replies, and everything else you did for us behind the scenes. We have simply loved working with you.
Your creativity and talent are amazing, but further still your good heart and concern for others are unmatched. We would pick you over again every time (albeit much faster next time!!).
Thank you for capturing our memories so beautifully at the engagement shoot downtown. Thank you also for being everywhere on our wedding day, and giving us so many wonderful scenes to look back on. We can't wait to see the album!
Again, thank you for being such a wonderful person to work with. We're your biggest fans!
Love,
Laura and Trevor
Michelle + Dan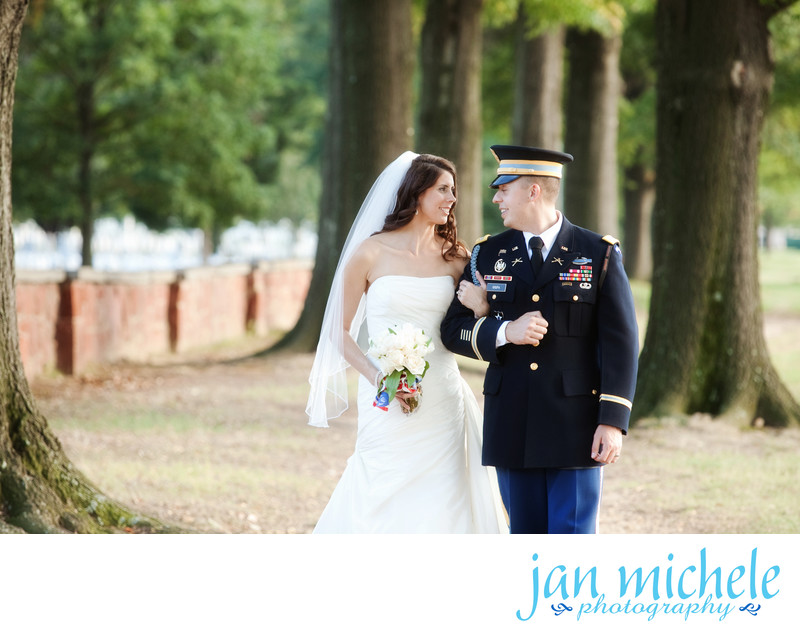 Hi Jan,
I just wanted to thank you for doing such a fabulous job capturing Michelle and Dan's special day. I can honestly relive the whole day, based on all the images you captured. Not to mention many that I was not able to see for myself during the day. You obviously excel at what you do and it shows in your work. I will be ordering quite a few soon.
Exceptional job! We love all the pictures and the slideshow. Such beautiful composition. Can't say enough good things about them.
Thank you again from the whole family.
Sincerely,
Marianne (Michelle's mom)
Patti + Steve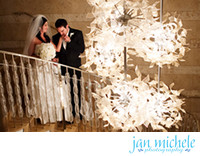 We were just married a little over a week ago at the Four Seasons and Jan did an absolutely amazing job with both the engagement and wedding pictures. She has an amazing knack for capturing those natural personal moments on film and has great artistic talent in finding the best backgrounds and creative ideas for posed pictures.
In addition, Jan was a pleasure to work with - always HIGHLY responsive - and extremely professional. She also has tremendous pride and dedication in her work which really shows in the results. She went above and beyond to scout out our wedding location a few months before and the day before the wedding (even though it was an hour drive).
In addition, we already have our wedding photo proofs and a beautiful slide show - it took her only a few days to provide this to us which I understand is basically unheard of in this industry.
So again, can't recommend Jan more highly - she is superb and I will definitely be using her for other photography needs!
Jenn + Bill
Jan was the very first vendor I booked for our wedding, and I couldn't have made a better decision! We hit the wedding jackpot with Jan because she also gave us her honest, professional opinion on area vendors. We ended up booking our fabulous wedding planner and awesome bakery through her suggestions.
I chose Jan because she's not just a photographer, she is an artist who excels at and truly loves her craft. When I was looking at photography options, I chose Jan because of the emotion elicited through each of her pictures; they tell her client's story. Jan captures the moment, love and feelings her subjects have for each other in her work. I never wanted to forget the emotion I felt on our wedding day, and Jan captured just that.
Jan shot our engagement photos, which were made into a guest book. We love looking at our guest book because it contains beautiful photos of us with well wishes on each page. We also had her shoot our blended family portraits (she's also great with kids!), which we just love--they were used on our Christmas card this year! And, of course Jan spent the entire day with us at our wedding, photographing every detail, traveling from National Harbor to Alexandria, into DC and then Arlington to take our pictures. She also brought along another photographer to help her capture our day. I cannot wait to have our wedding album that we just ordered!
For the guys: My hubby hates having his picture taken, but he has declared Jan the only photographer allowed to take our family's photos...ever.
My hubby and I would absolutely recommend jan michele photography to any bride (or family) considering her services. She is a class act, professional, down to earth, and on top of that is a person who truly cares about her clients. Jan sat with us for hours to go over album choices, package options and make sure we were satisfied with her plan. Jan will work with you on poses, location ideas, time of day, lighting, etc. She is detail oriented, which was a perfect match for this Type A bride. Jan is simply a pleasure to work with.
When all is said and done, your wedding photos are an investment that hold the memories and emotions of your wedding day. My pictures are the #1 thing I treasure from our wedding. They tell the story of us. I couldn't be happier!
Sherri + Mike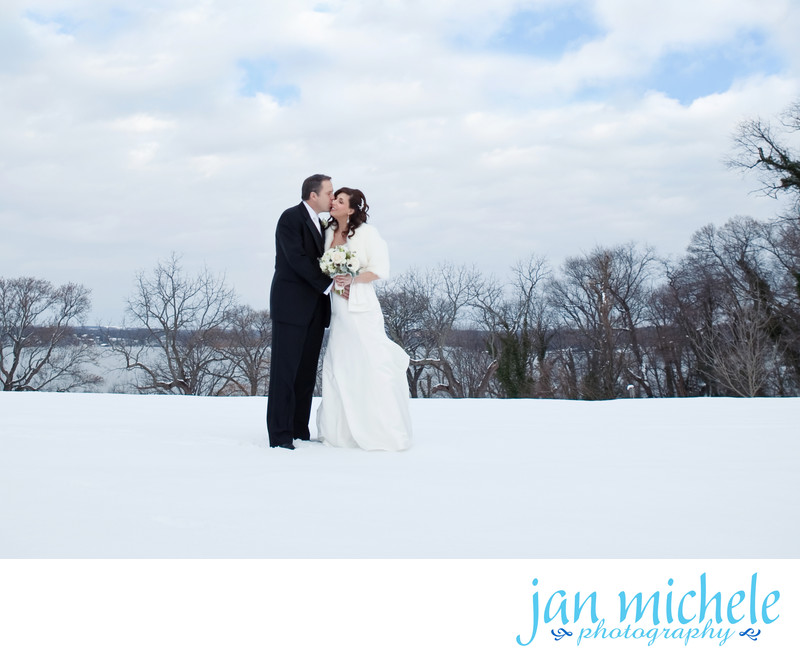 Jan,
Thank you so much for the amazing job you did capturing incredible photos of our special day. Mike and I absolutely LOVE the pictures you took at our wedding- they came out far beyond any expectations we had.
We are so grateful that you were able to make the pictures work even though we would be getting married in front of a window overlooking the Potomac. You did it and it looked great!
The photos in the snow are just so beautiful - all of our family and friends commented on how different they are from what you normally see. You also captured the ambiance and lighting of the reception room just perfectly, most importantly, you were there to get all the special moments.
When we look back on the day, I am so thankful that we had you there. On top of it all, you have the best personality around, so nice, helpful and fun. Can't wait to see you soon when you take pictures of our daughter!
Sincerely,
Sherri and Mike
Tricia + Reg
Jan was by far our favorite vendor! She came well recommended by my sister-n-law and brother-n-law whose wedding she had photographed in 2007 (she also photographed two other friends' weddings in 2009 and 2010). Even after photographing weddings of our family and friends, our engagement and wedding photographs were still special, unique, and different from theirs. What I loved most was that she got to know us, and that truly came out in our photographs, the candid moments really portrayed us and our personalities.
Throughout the year after we booked Jan as our wedding photographer, I would send her emails with ideas and thoughts and even sometimes for advice, and she was always super responsiveness! I don't think I ever had to wait longer than a few hours before she responded to me. When it came time to scheduling our Engagement photos, she was completely flexible with dates as we had a hard time nailing down a perfect autumn weather day without any wind or rain.
Jan certainly goes the extra mile for her clients, and she certainly did that for us. Our wedding day was full of rain and wind, and we didn't get an opportunity to take any outdoor photos at our reception venue (Chesapeake Bay Beach Club), which was such a shame because the outdoor area is just beautiful. Knowing that I was a little disappointed, she offered to take us back to our reception site the week after the wedding and spend another afternoon photographing us.
We didn't have to wait long to get a glimpse of our wedding photos. Jan had a slideshow of her favorite's photos up online and on facebook for us to view less than a week after the wedding! She not only does the slideshow, but she also posts wedding pictures on her blog, and then posts the wedding album online as well. That gave us three different opportunities, all in different formats, for us to reminisce about our wedding day and to share the links with our friends and family.
We received our wedding album just a couple weeks ago, and my husband and I just can't stop looking at it! The quality of the album is just superb and she does such a great job organizing all the photos. Jan is one vendor that will surpass all of your expectations, and I encourage you to book her to photograph your wedding!
Kim + Chris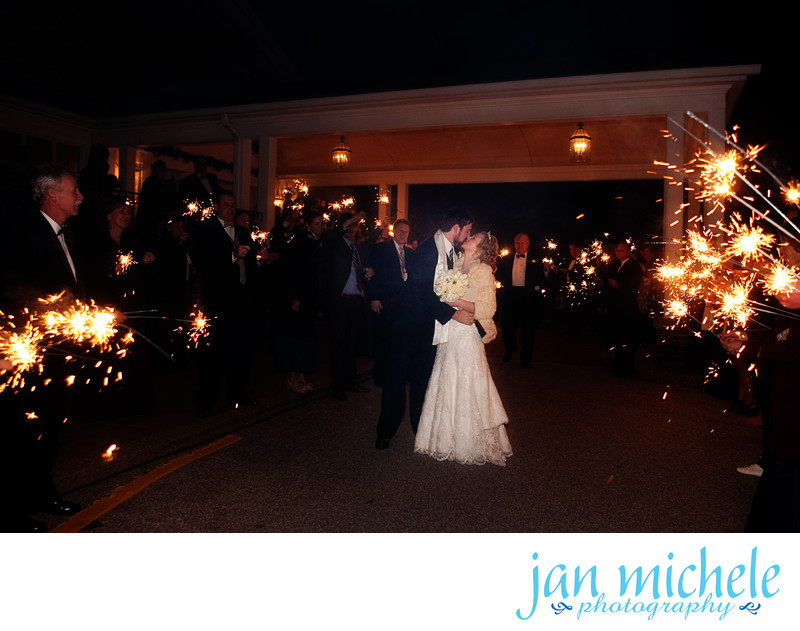 Jan,
We so enjoyed being able to share the albums over the weekend. The whole album turned out so beautifully! And I enjoyed getting to see Kim's large album as well with the beautiful metal cover.
You did such a beautiful job in taking fantastic pictures and then putting it all together in such a beautiful way. It really gives such a good sense of the whole day from beginning to end. You certainly captured our memories and we will enjoy looking at them and reminiscing for years to come.
Thank you so much!!
Shirley (Kim's Mom)
Amanda + Jon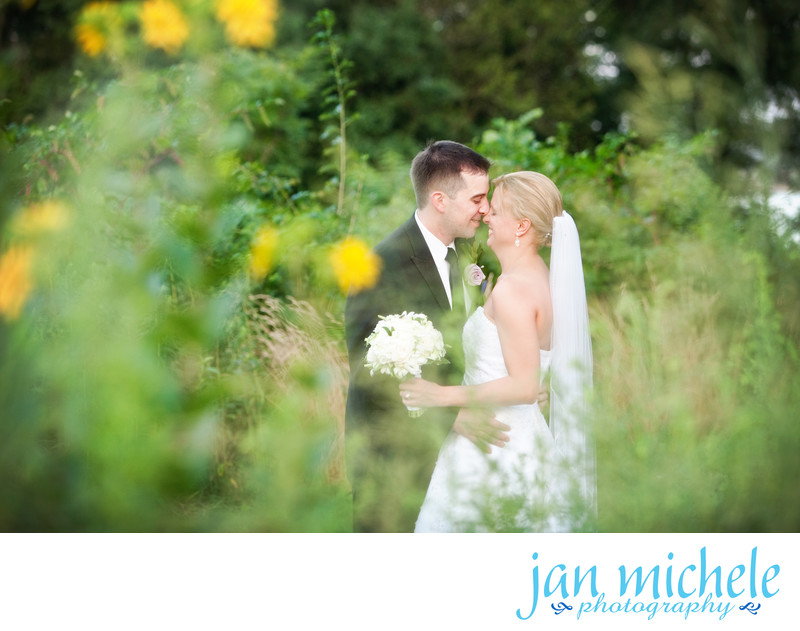 Jan is simply amazing. You could not hire a better photographer who possesses both the photographic expertise and wonderful personality to share your wedding day with you.
She is absolutely at the top of our list of all our vendors. She is incredibly talented, professional, responsive, and patient. Over the months leading up to the wedding and after the engagement shoot (what a great decision that was to do!!!), Jan answered a myriad of questions leading up to the wedding (many not even remotely related to photography). She always answered emails immediately. Something we very much appreciated. Talented and caring is a wonderful combination in a photographer.
Certainly there are other photographers who also have her amazing camera skills, but Jan has something that sets her apart. She is a kind, relaxed person with a wonderful ability to handle complex & confusing situations. She knows how to get people to relax in front of the camera & completely forget she is there – this equals amazing photos. I really do not think we understood when we started the selection process how important personality is when it comes to selecting a wedding photographer. But, we learned, it should be high on your list, right after photographic skill. We were so fortunate to have heard wonderful reviews of Jan and that helped us a lot in picking her.
We had people going every which way the day of the wedding. But Jan had asked us ahead of time to think through what pictures we would want of family and friends. We did not quite "get" why we were doing it but the day of the wedding it became clear - Jan and her assistant had everyone in and out of shots before we knew it. Her assistant, by the way, was superb also.
As we look back now at these gorgeous pictures, we realize no one was missed, not even our Dogs! During the day of the wedding, our entire bridal party totally lost it – what to do next, where to go, when to go. Jan, gently and sweetly, kept us on track the entire day. But she was never in your face, never intrusive. Most of the evening, we do not even remember seeing her or her assistant. But the glorious photos prove she was there!
Jan posted the wedding pictures almost immediately after the wedding. We sent out the link to family and friends and the response has universally been -- what gorgeous photos. She was able to capture not only the photos of the day, but perhaps most importantly the mood of the day which can be best described as – magical.
No, Jan did not pay us to write this review, she is simply that good. We are so very happy we decided to go with her.
When it is all said and done, the wedding flies by in a nano second. What you have left are memories and your photos. This is not an area to skimp on. Go for the best --- Jan Michele is simply the best. But hey, don't listen to us, trust your eyes. Her work on her web site says it all.
Jan is a true artist who cares deeply about her work and her clients.
Karen + Paul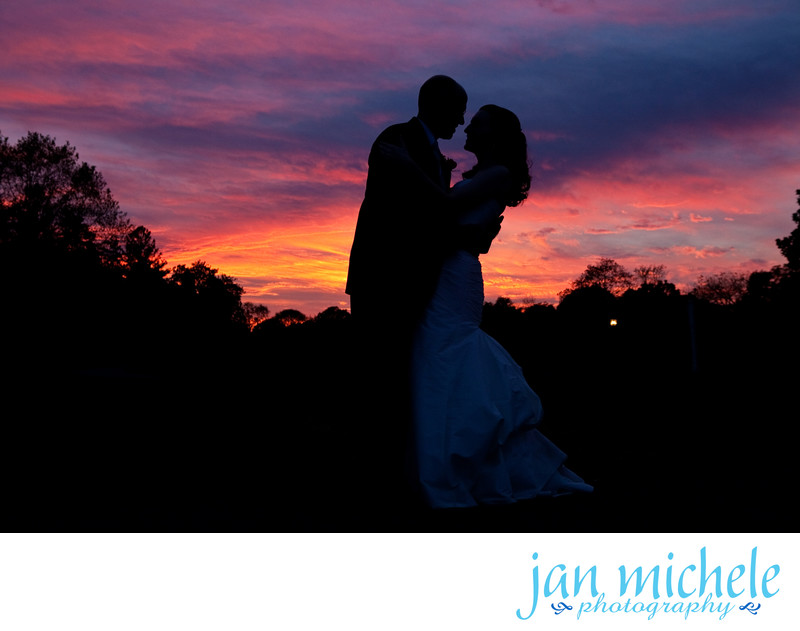 Awesome from first contact by email to final delivery of wedding album and parent albums (only 6 weeks after the wedding!). Everyone who has seen our engagement pictures, wedding pictures and wedding album has been blown away by the perfectly crafted shots and pristine photo quality in every frame.
Jan was very responsive and communicative with us, and was very flexible in scheduling meetings. Our engagement photo session and pictures told us we had made the right choice with our photographer. She has a gift for putting the subjects at ease - we felt like a friend was taking our pictures. At the same time, she composes very memorable yet real shots - no silly poses or overly elaborate setups.
Jan and her assistant had worked with our wedding venue and some of our other vendors before, and seemed to have good working relationships with all of them - logistics were a snap. The wedding pictures, both posed and candid, and the albums lived up to every expectation. The pictures were online in days, and she delivered the album in under six weeks -- both were very pleasant surprises, even given that Jan had impressed us at every previous step. Jan came highly recommended.
In light of her stellar reputation, her packages were some of the most competitively priced we saw in several weeks of intense vendor searches. Jan Michele Photography delivered perfect engagement and wedding pictures with no hassles or surprises, and was worth every penny.
Ashley + John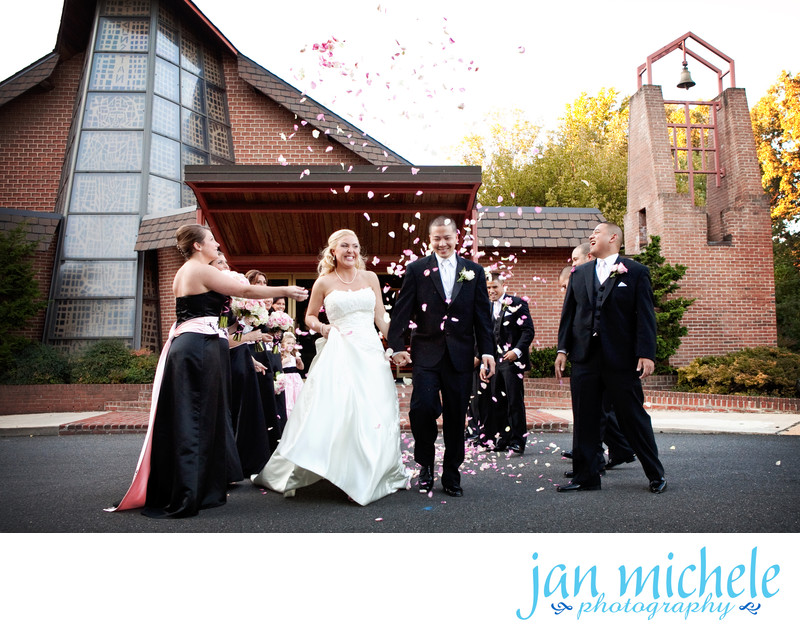 Jan Graves photography was one of the best things we did for our wedding. She is so organized and so professional, she truly made it easy to leave it all in her hands.
If your crazy and anal like me, you will love Jan's ideas and creativity. Hands down, one of our best vendors. She captured every part of our fairytale, and I love looking back at our story. Jan is very easy to work with and I will be using her many times in the future.
Tara + Brian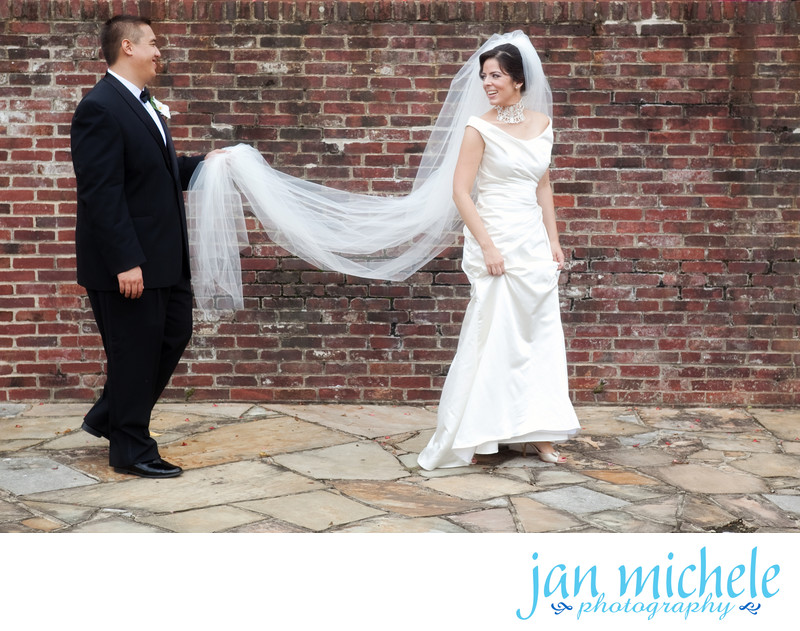 Jan -
THESE PICTURES ARE SOOOOO AMAZING!!!!!!!!!!!!!!!!
I have to tell you - Brian and I pulled out our phones after dinner just in case and I saw your email and he literally grabbed his laptop and RAN to the front desk lounge area, which is the only place in the hotel that has wifi, and we just spent the last two hours pouring through every single picture and watching the slide show about six times!!!
SOOOO incredible!!! Then other hotel guests started watching the slideshow with us and they sat through the whole thing twice with us too! We love everything so much - every single picture came out so wonderfully - there is not a bad one in the bunch.
You did SUCH an amazing job,truly. We are so thrilled!
Thank you!!!
Talk to you soon -
Tara and Brian
Melissa + Oladele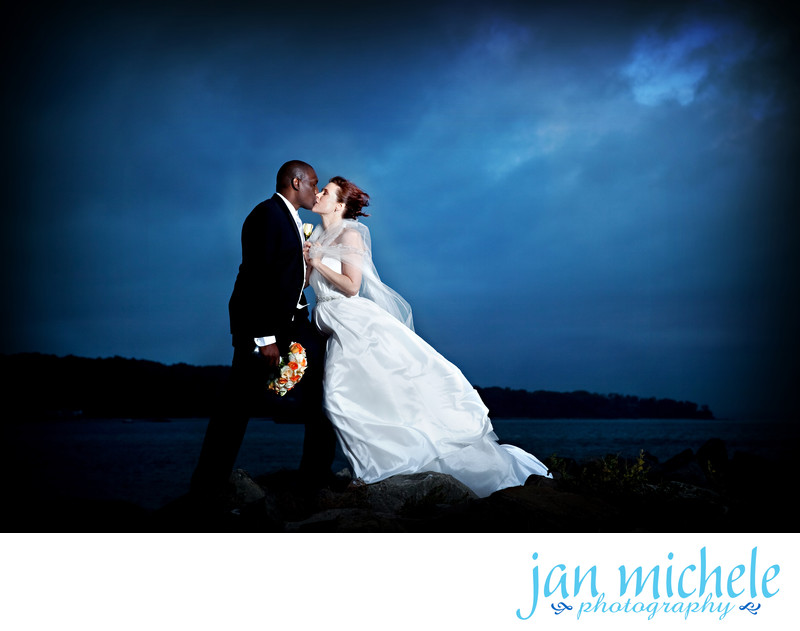 Dear Jan,
We received our album and we love it!!!! Thank you so much for everything you have done to preserve such an important day in our lives. You have gone above and beyond in every way, from helping us plan a time line for the day (I did not even know I needed one), to saving the day with safety-pins and pinning up the part of my slip that kept falling out from my dress after we bustled it!
It was so nice for me to see the pictures of my love getting ready. The time we had together with our closest friends taking photos as very newlyweds was so special that even pulling up to the reception hall I was thinking the day could end now and still be the best of my life.
I'm sure we were a bit of a challenging to photograph at the reception because I don't remember posing for one picture, yet somehow you caught it all. We just danced all night and enjoyed our friends and family.
Now we are expecting our first baby and we are thrilled that we have the album and photos so our kids can see how our family started.
Thank you so much!!!!!!
Love, Melissa and Oladele
Courtney + Saul
Jan -
As we've now had a month to digest our wedding festivities and think back about all of the details of the day, we want to tell you again how very glad we are that we had you as our photographer. From our initial phone conversation months before the wedding, to the engagement shoot at the National Cathedral, to the wedding day, you were so easy to work with and consistently balanced the ability to both listen and offer great suggestions and ideas. Our photos are incredible and the natural style is exactly what we were looking for. We've been amazed with how quickly you've posted pictures from our engagement shoot and wedding and are so grateful for the album process, where you select the initial round of photos to be included... it would have taken us forever to select all the pictures, and you did it better than we ever could have! You have a great gift to be able to really capture the story of the day in such a beautiful way. So... thank you again. And we hope our paths cross again in the future!
Courtney and Saul
Amy + Rod
Jan,
We cannot emphasize enough how pleased we are with your photos of our daughter's wedding. They are marvelous. They catch the spirit, the warmth and humor, the love Amy and Rod have for each other, the key moments, the setting, the flow of events, and the happy extended family. And they do this in ways that are artistically and technically as good as one can get.
Add to this that you were delightful working with the wedding party and family before and after the ceremony, and unobtrusive throughout the day.
Thank you! I'd be glad to provide a reference, if you ever need one.
Pete (Amy's Dad)
Susan + Sang
Dear Jan,
Thank you so very much for capturing our wedding day so beautifully! We really appreciate the attention and hard work you put in from the very beginning of the wedding planning process to the end - scouting out locations, visiting the Chapel to make sure you would be at the right spot for the right shots, reviewing the time line, etc. You truly went above and beyond the call of duty for us.
You are not only an absolute joy and pleasure to work with but just the most talented photographer ever! The pictures you captured and the slide show and album are all absolutely amazing. You didn't miss one shot! It's incredible that you managed to capture not only the look of the day but the feel as well. Our families and guests are also raving about what a wonderful job you did. We just can not thank you enough!
Susan and Sang
Allison + Adam
Jan,
Words can truly not express how thankful we are! You made our wedding day so perfect because we can share it with our friends for years to come. My mom regrets not having good wedding pictures, and I hate that we can't look at her pictures together. Adam and I have pictures that captured our happiness and love that we can one day share with our children. We are truly thankful for that.
I feel like the day went by so fast and I missed something. But, having you take our pictures, I knew everything would be captured. Thanks for everything!
Love, Allison and Adam
Karen + Jay
Jan -
Thank you so much for all you've done - you captured our memories so perfectly in photos and our wedding story can be told so easily! Despite the wacky weather, I got the photos I was hoping for and everyone has commented on how beautiful our photos turned out - you have an amazing gift!
Karen
Susan + Ariel
Jan -
I wanted to write and thank you so much for being such an important part of our wedding day. You were so great - everything from the ride to National Gallery to wrangling my crazy family for that last photo.
We are so happy with the pictures and everyone has been amazed at what high quality work you do. Please know that you can count on Ariel and me to be a reference going forward - we are very satisfied clients.
Susan
Hannah + Chris
Dear Jan,
Thank you so much for capturing the special moments of our wedding day. We are so pleased with the pictures and can't wait to have the album.
You have been wonderful throughout these crazy times for us and just an absolute joy to work with.
Thanks again.
Hannah and Chris
Jodi + Michael
I knew Jan from my work on the Hill and was glad to be able to reconnect with her to be my photographer for our special day. Not only do her pictures capture the entire story, her ability to pull it all together and provide a online source for friends and family was so convenient. All of our friends and family are able to "go to" our wedding over and over again, including ourselves.
Not only does she create slideshows with a wonderful selection of music but she makes the pictures come alive in a high quality, superbly designed photo album. We were highly impressed with the quick turnaround time!
We highly recommend Jan to any couples planning their wedding. You won't be disappointed and her talent and skills will allow you to re-live the special moments over and over again.
Jodi and Michael
Mari + Dave
Jan,
We received the album several weeks ago and WE LOVE IT!!!! Thank you so much for capturing such great moments and helping to preserve the memories of a fantastic day! The albums are beautiful! They made my parents cry again too...my poor dad can't keep his eyes dry. Dave's parents loved their albums too!
I love your work, you were exactly what I was looking for and more for my wedding!
Thanks a million!
Mari


Dear Jan,
A thousand Thank-yous! The photos are great--you've caught Mari and Dave's spirit! I missed the slide show on Saturday--too busy being Mother of the Bride!
How beautiful! There were many comments about how you were everywhere, but unobtrusive--Mari noticed you but no one had flashes in the face.
The online slide show was amazing! Friends and relatives all over the world who couldn't come were able to see and enjoy the day.
Again, Thank you! You were great!
Karen (mother of the bride)
Chrissi + Sheldon
Jan,
We cannot thank you enough for the absolutely beautiful albums. You perfectly captured our wedding day. We are so blessed to have such wonderful memories recorded by you!
Thank you and God bless!
Chrissi and Sheldon
Kimberely
Jan -
I wanted to thank you so much for doing my engagement and bridal portraits. They were absolutely gorgeous. You spent so much time with us and got so many amazing shots that I had the hardest time choosing which ones I wanted to get prints of!
Thanks again for everything - you are the best!!
Kimberley
Allison
Jan,
The pictures you've taken of Riley over the past year have been absolutely beautiful. Thank you!
Her little personality is captured so well in your photos (no small feat as much as she loves to run around). I am always so pleased with the photos and receive so many compliments on your work.
It's so hard to choose which ones to order as prints - there are always so many favorites! We're looking forward to many more years of priceless photographs.
Allison, Bryan and Riley
Tracy
Jan,
Thanks so much for the terrific photos. I hadn't had portraits taken of myself in 10 years and you made it a painless process that was actually fun. The photos made great mothers and fathers day gifts too which is a nice easy gift to give when I live far away from the family.
Thanks again !
Tracy