The long awaited wedding day finally came!  Beautiful bride Katherine stepped into this gorgeous lace gown at the Alexandrian, then we met her groom, Chris, for a first look outside in Alexandria, VA by the Apothecary, which is the same today as it was in George Washington's day.  Followed by portraits around Old Town, on the way to meet the wedding party for pictures on the cobblestone street.  What a treat to have 45 minutes in this historic place for gorgeous pictures!
Then off to another location with ties to George Washington, the estate he gifted his granddaughter as her wedding present. Woodlawn is a first class wedding venue in Alexandria and they have really upped the competition and may just be the best place for a wedding in the Washington, DC area.  The historic mansion is a stunning backdrop for pictures and the wedding ceremony.  And the grounds offer beautiful areas for pictures and a lovely formal garden strung with lights for the cocktail hour.  And the permanent tent with a tabby floor, draped ceiling with chandeliers brings in the natural scenery in a comfortable and elegant way.  It's really the perfect wedding venue!
Katherine and Chris looked at each other in the most adoring way all day.  There is a special bond there and I so love to see a couple that just soaks up their wedding day and feels it all!  Their family and friends couldn't have been more joyful and supportive too.  So many lovely locations and meaningful moments, as you can see, they ended up with a huge number of photos so they remember it all!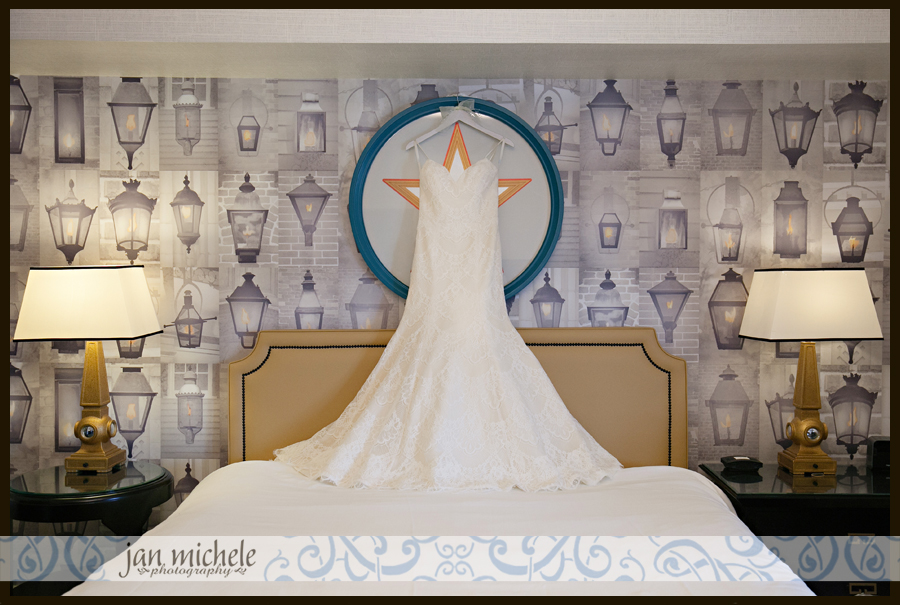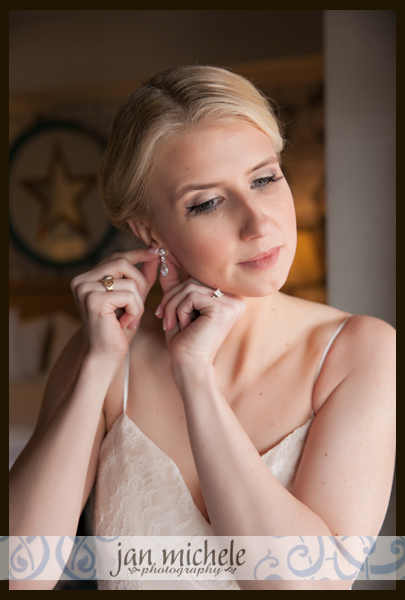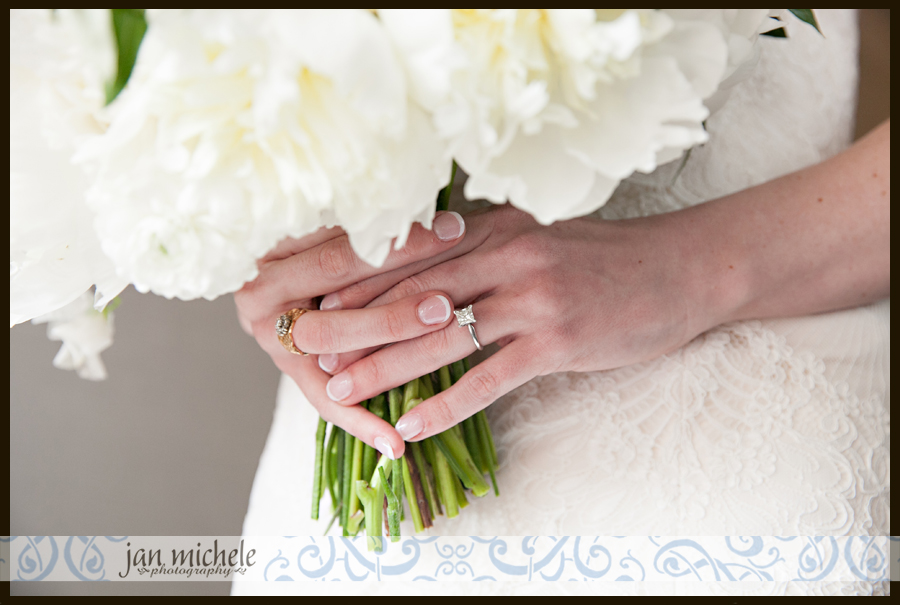 Bridesmaids seeing Katherine all dressed and having her veil put on.  Love those smiles of love and support! 
Just after the first look, looks of love!  But they did look at each other like this all day!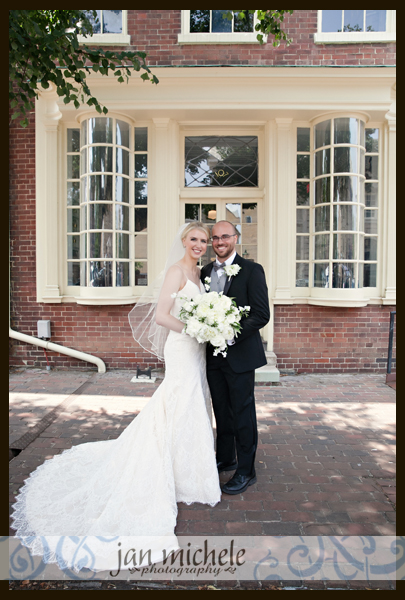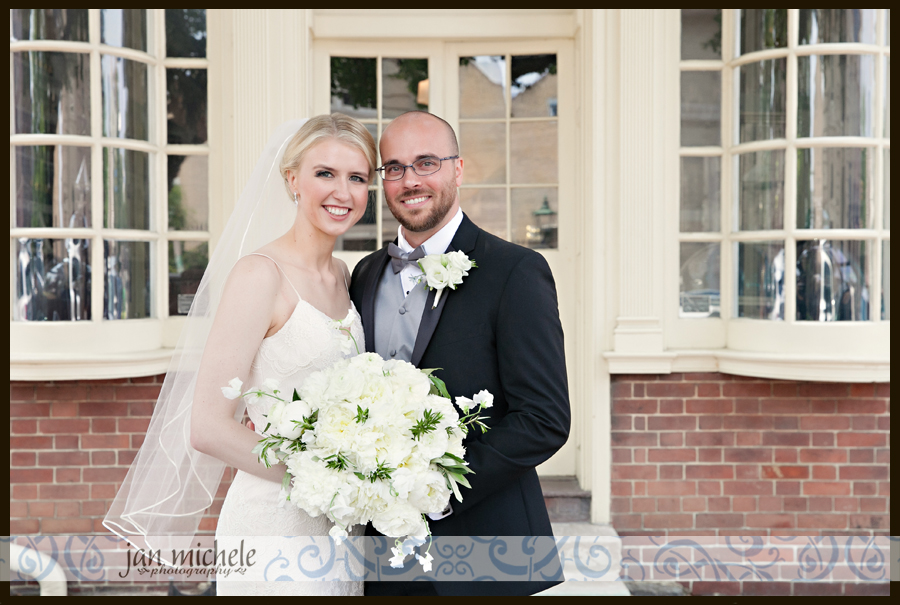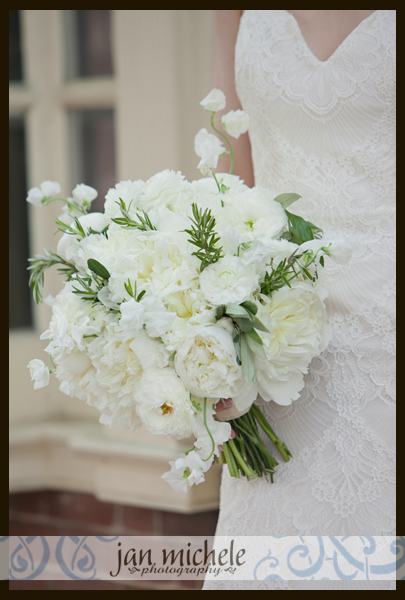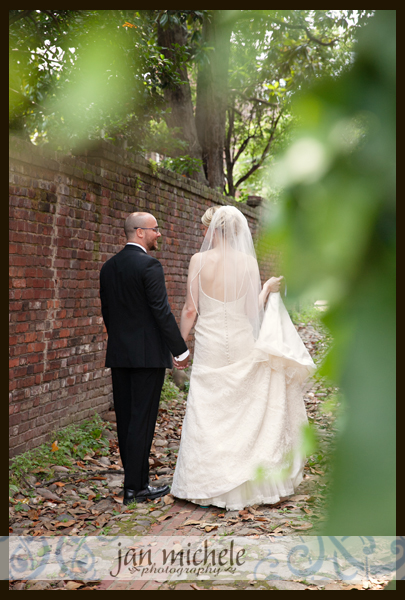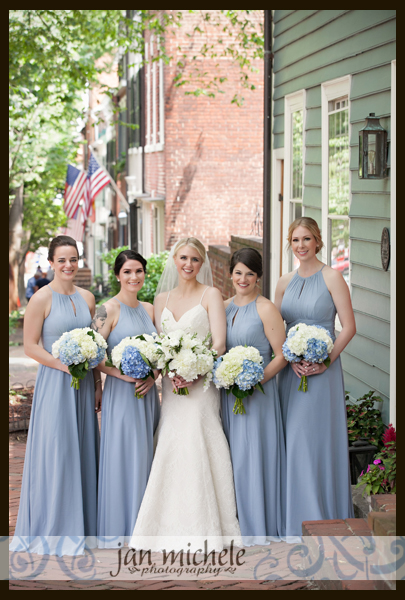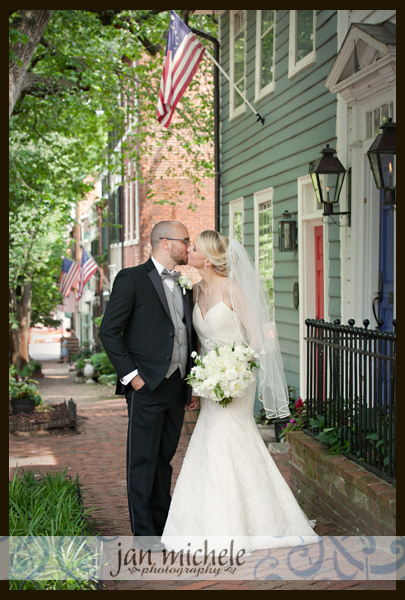 Both families went to the same WV summer camp each year as the kids were growing up, and have been friends for a many, many years!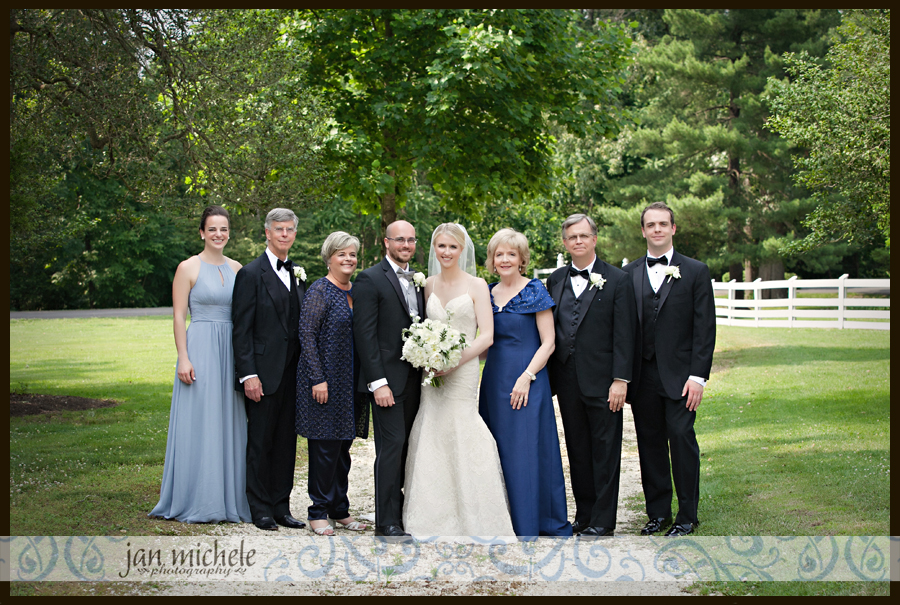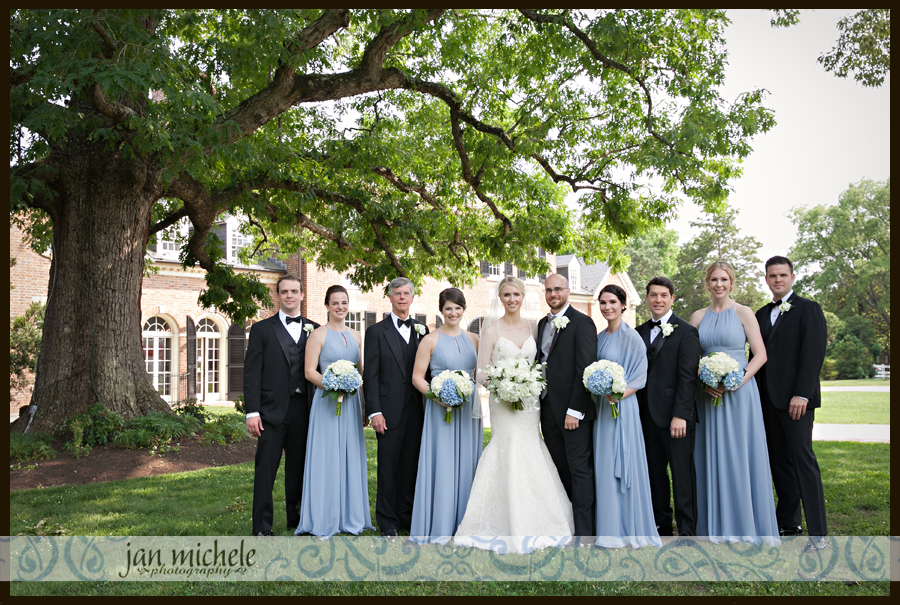 Woodlawn mansion makes such a dramatic backdrop for wedding pictures!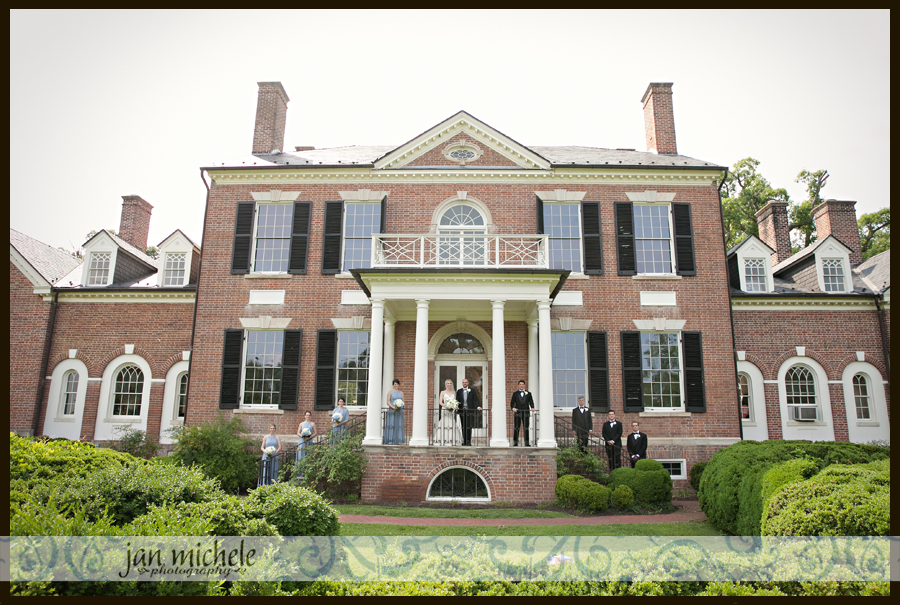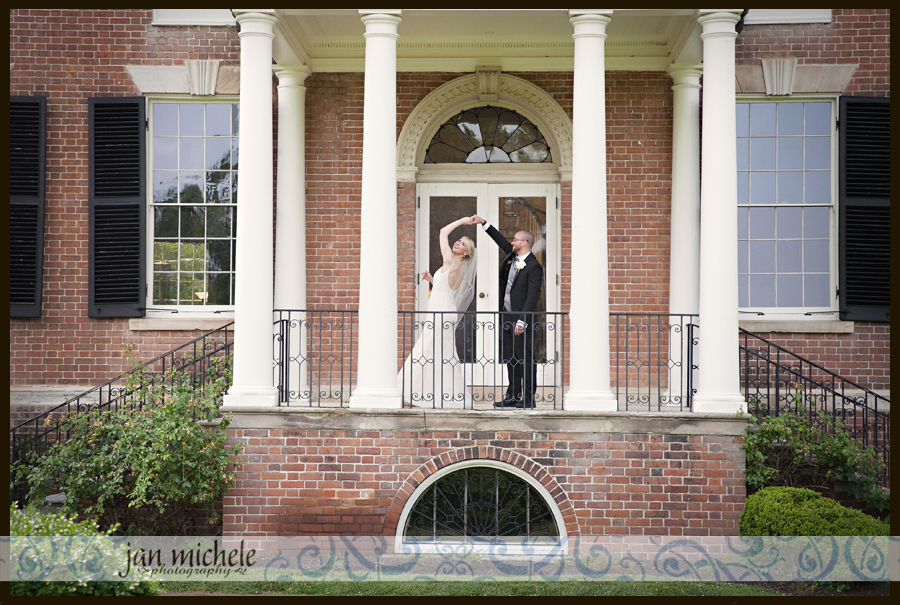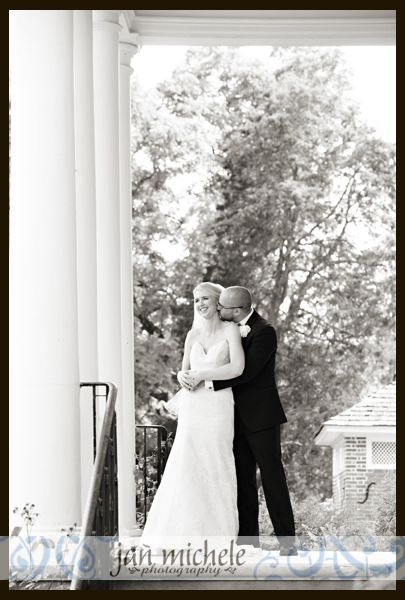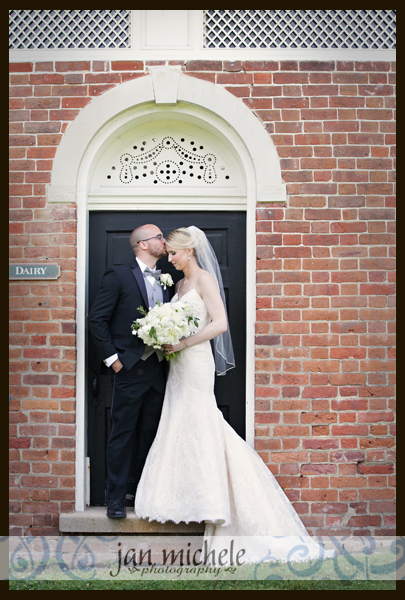 Woodlawn was a gift from George Washington to his granddaughter. If the trees were shorter you could see Mt. Vernon in the distance.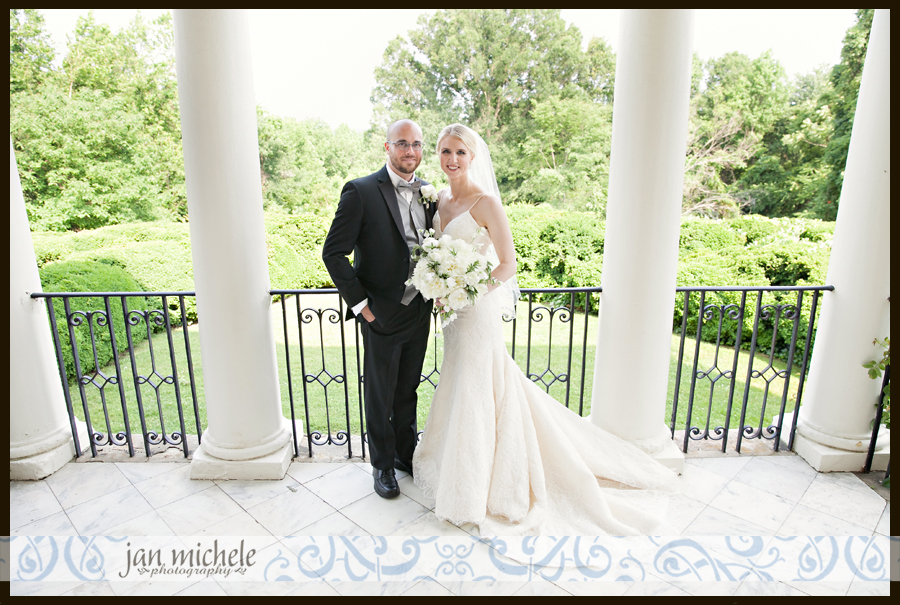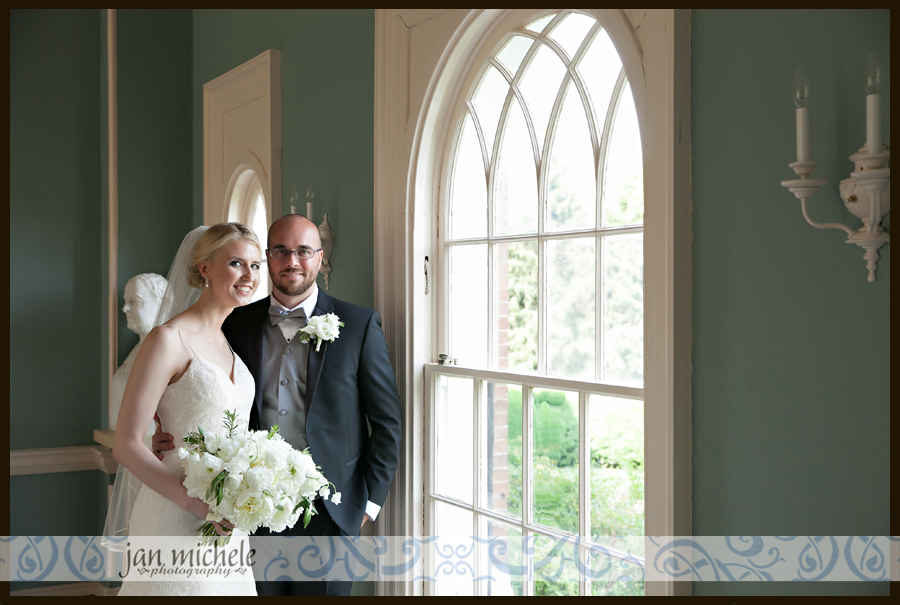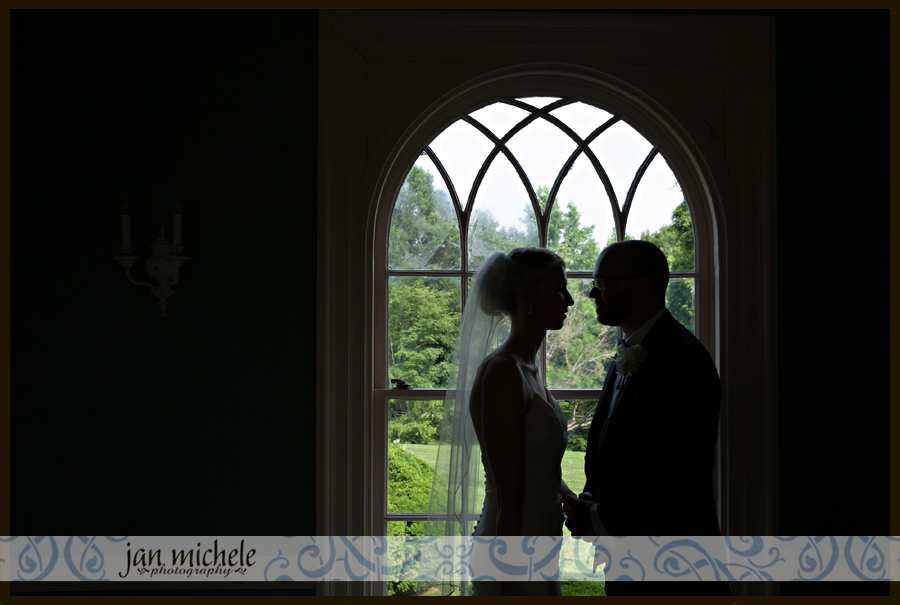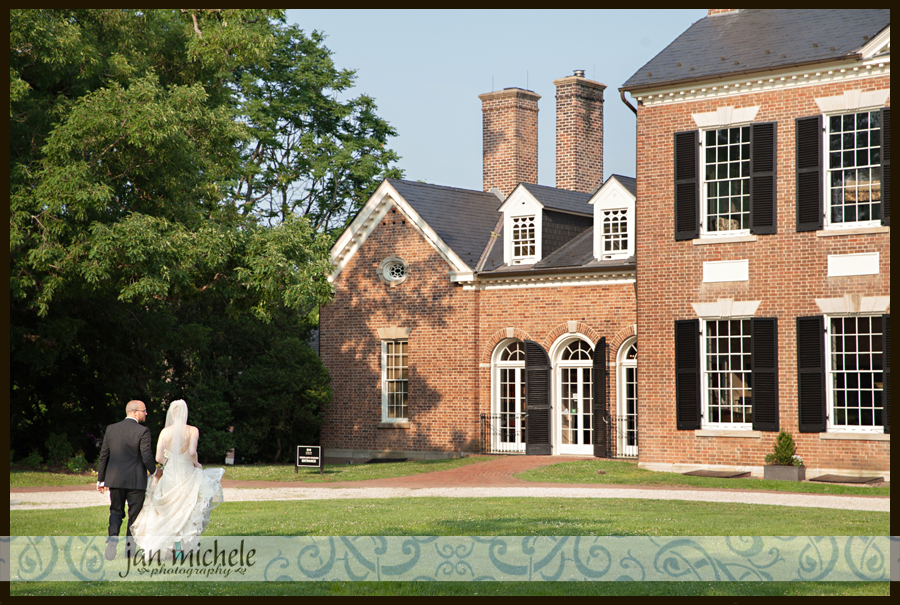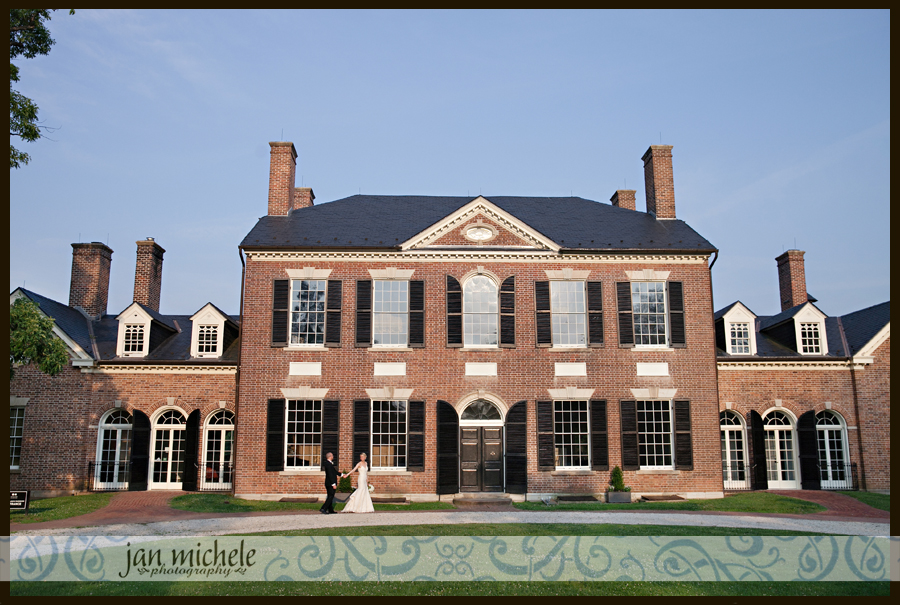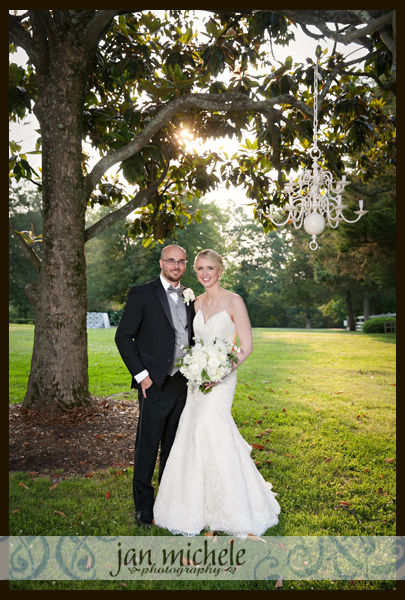 The stunning moon arch covered in white flowers was a spectacular backdrop for the wedding ceremony! 
It was a tad humid and warm, so these ceremony programs as fans were perfect!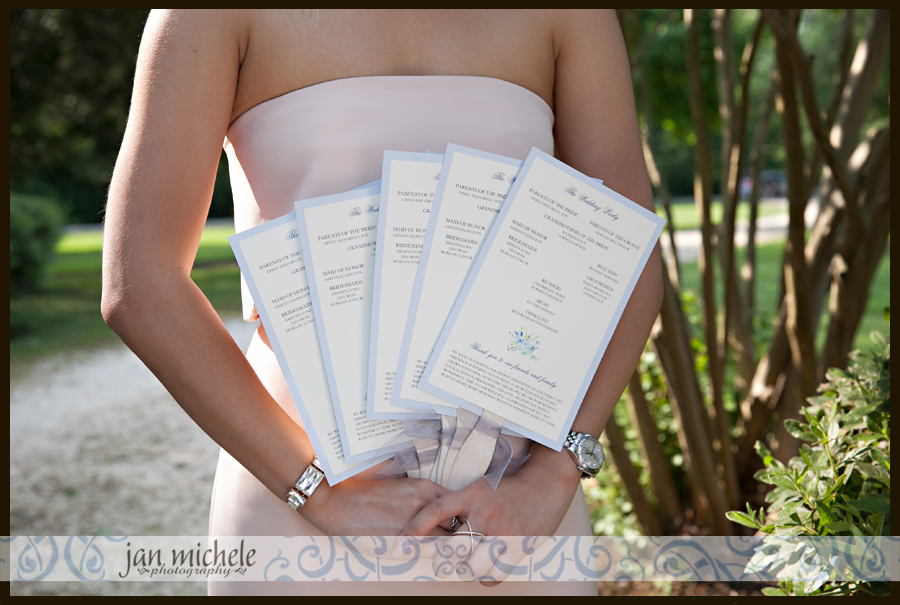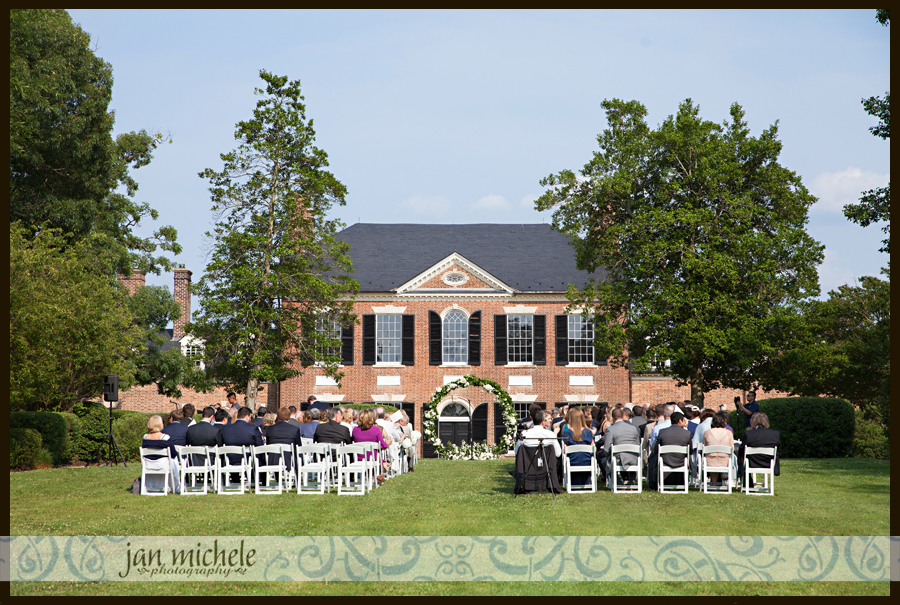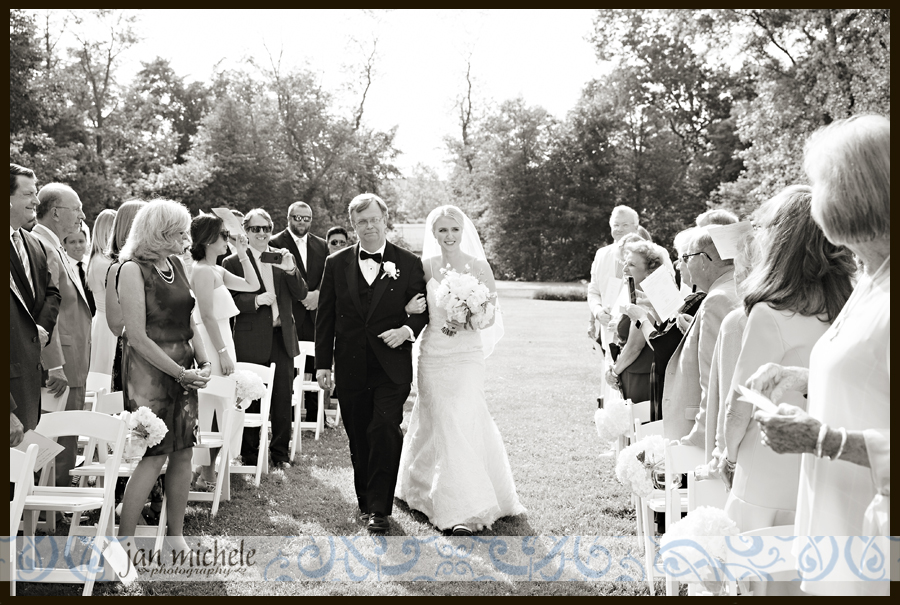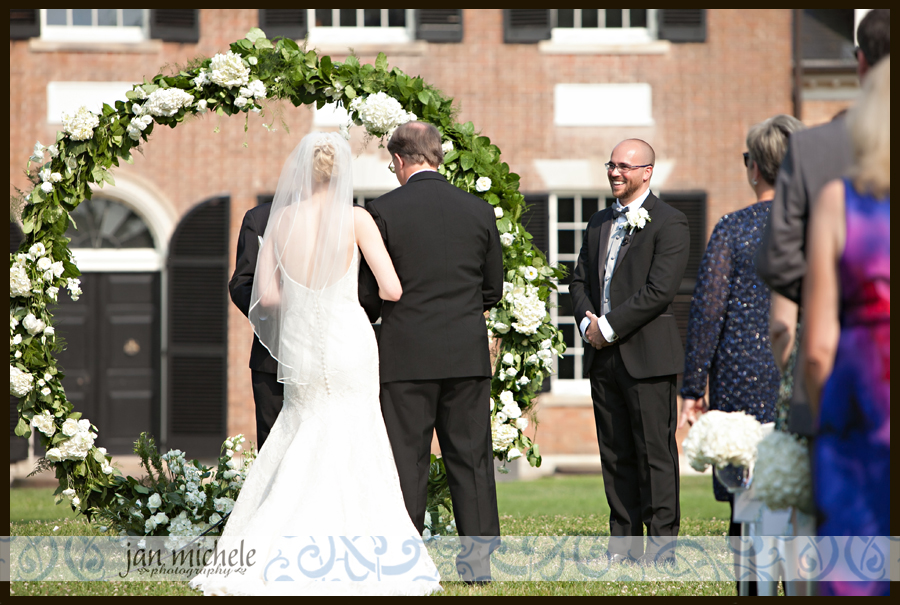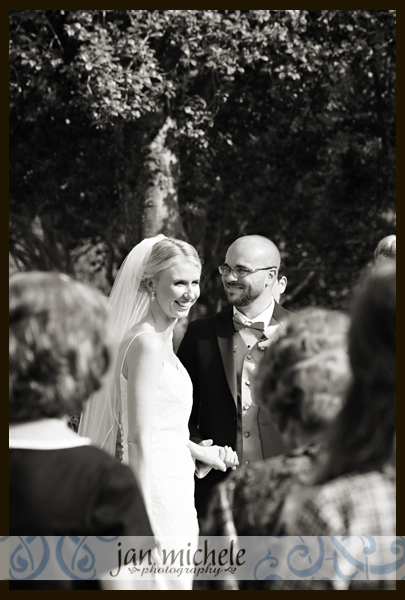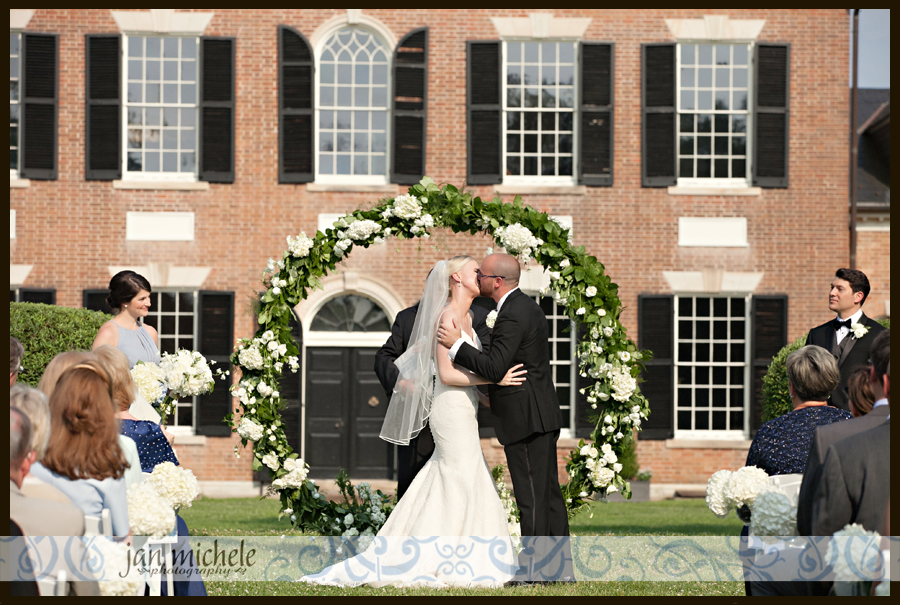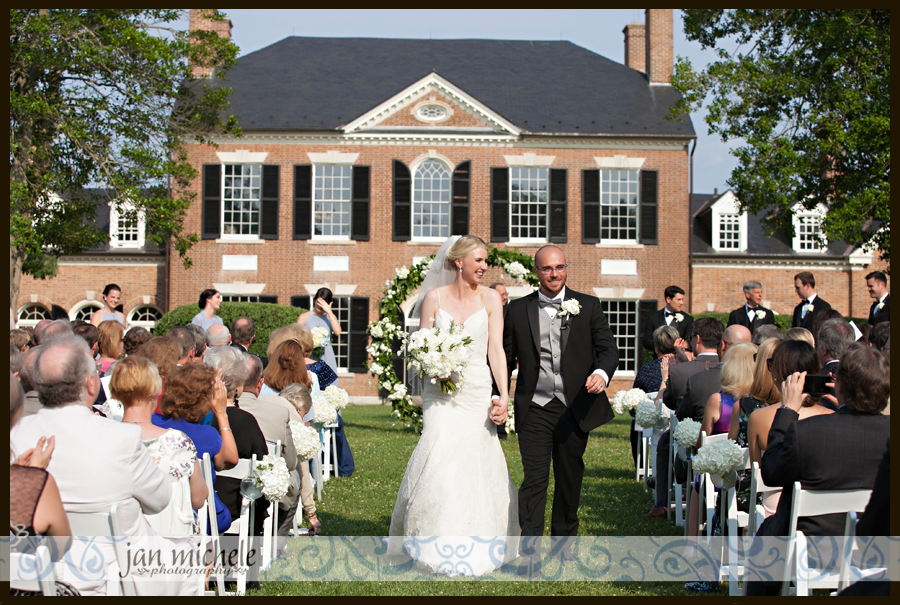 This garden setting for the cocktail hour was just dreamy!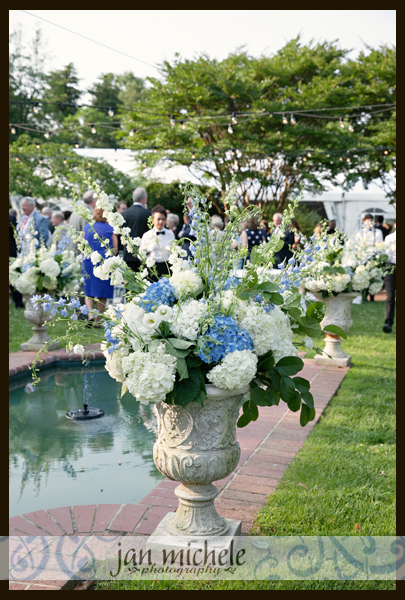 All the invitations and wedding stationary was so beautiful in it's periwinkle blue and features the most charming drawings of the venues!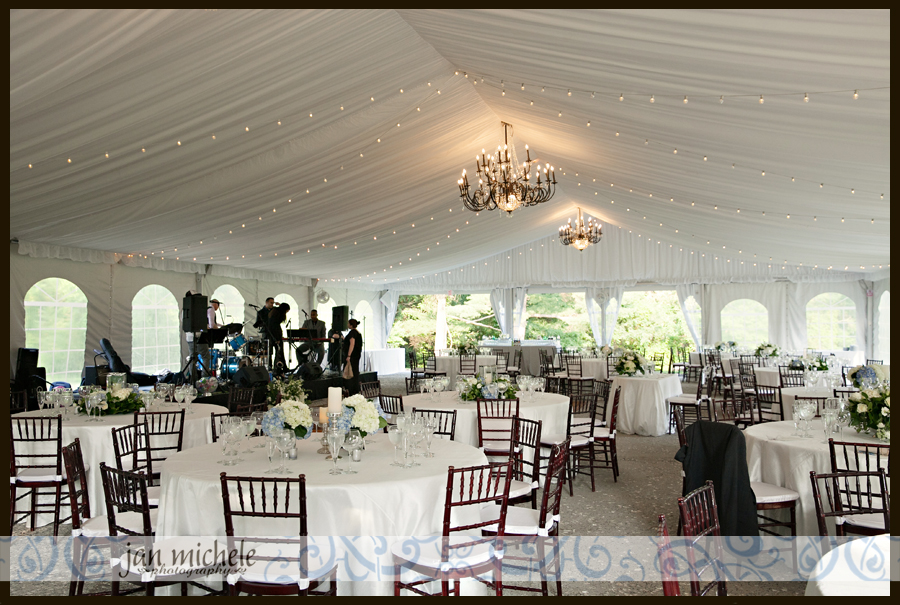 Woodlawn has created a full service wedding venue with a permanent tent for the reception.  It's a gorgeous draped tent with chandeliers, a tabby concrete floor which feels so era appropriate (concrete with oyster shells), fans and sides that can be open or closed as the weather dictates.
Here the band is getting set up.  Tables are set with blue and white flowers.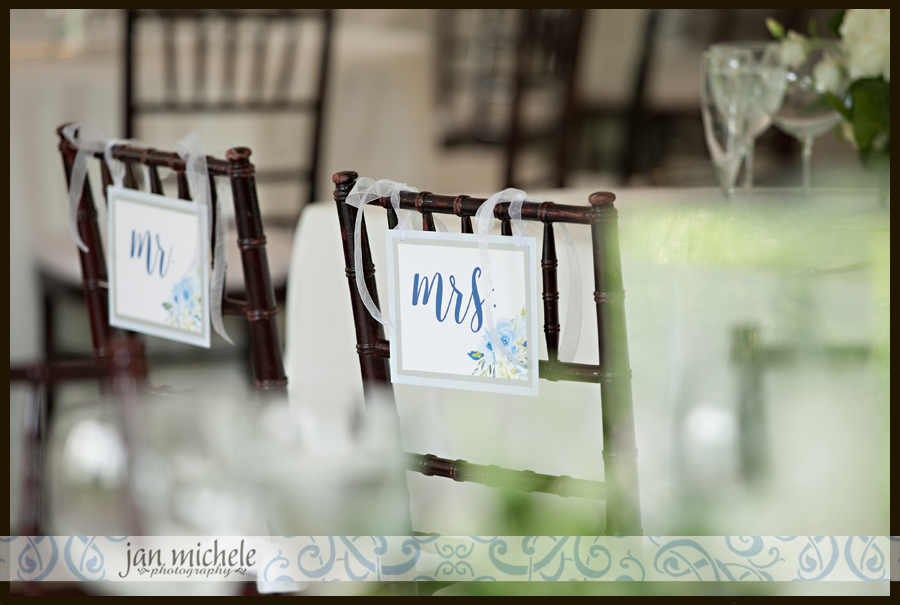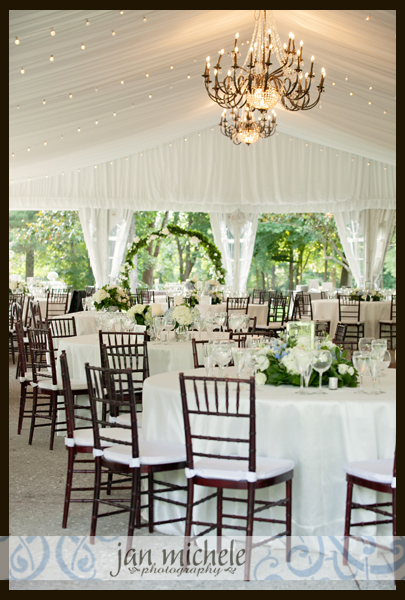 The white flower moon arch came in from the ceremony and now frames the cake.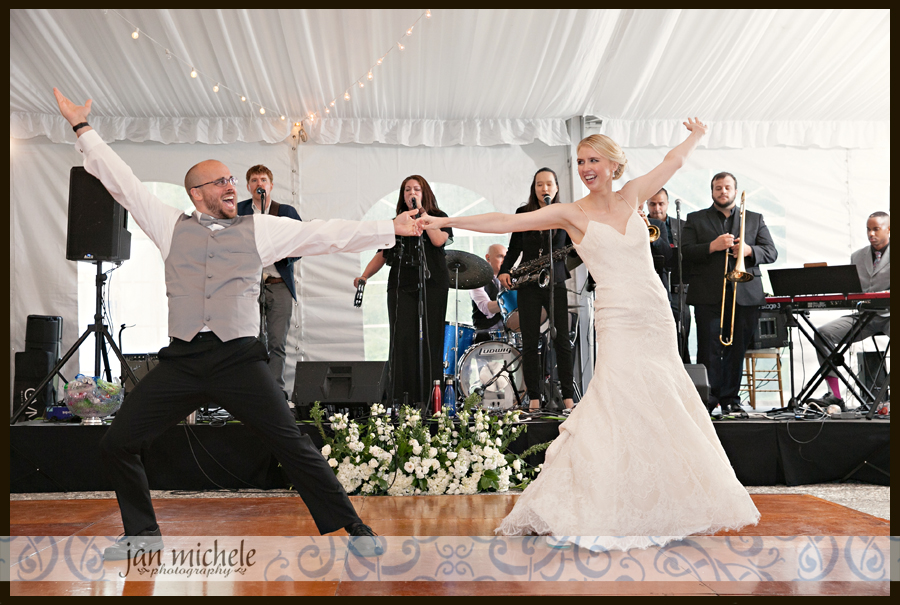 How fun!  A choreographed first dance!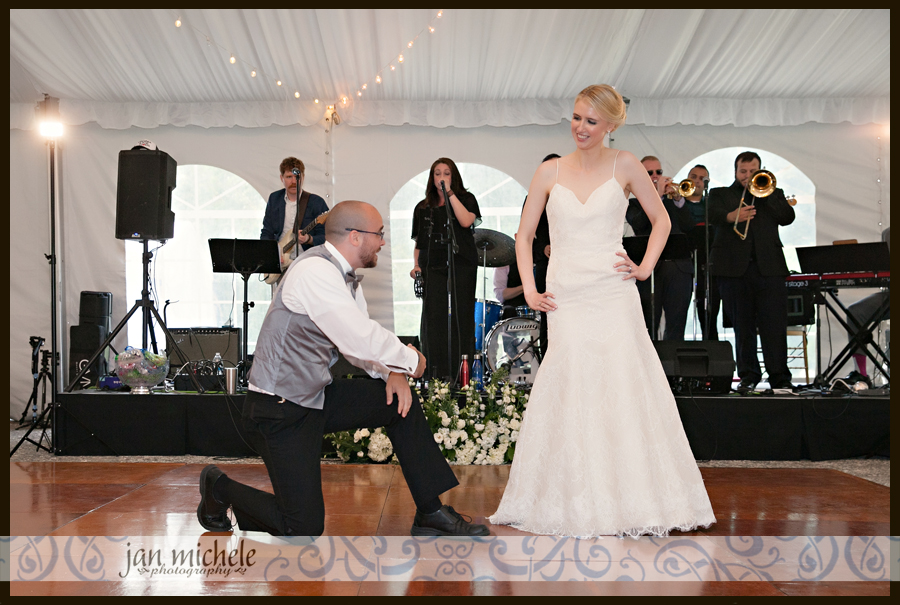 I just love the expressions during the toasts!  Such looks of happiness!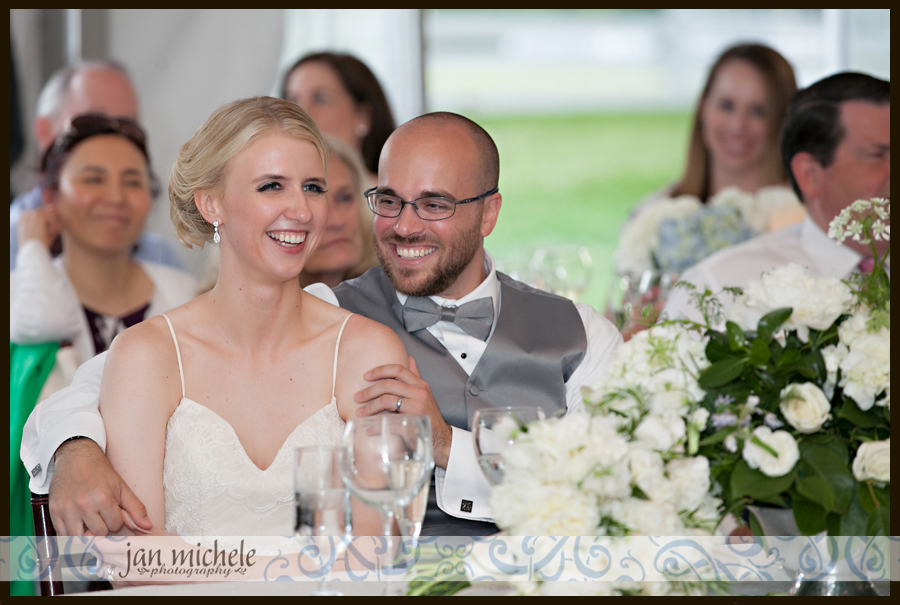 And choreography for the father daughter dance too! 
Cutting the funfetti wedding cake!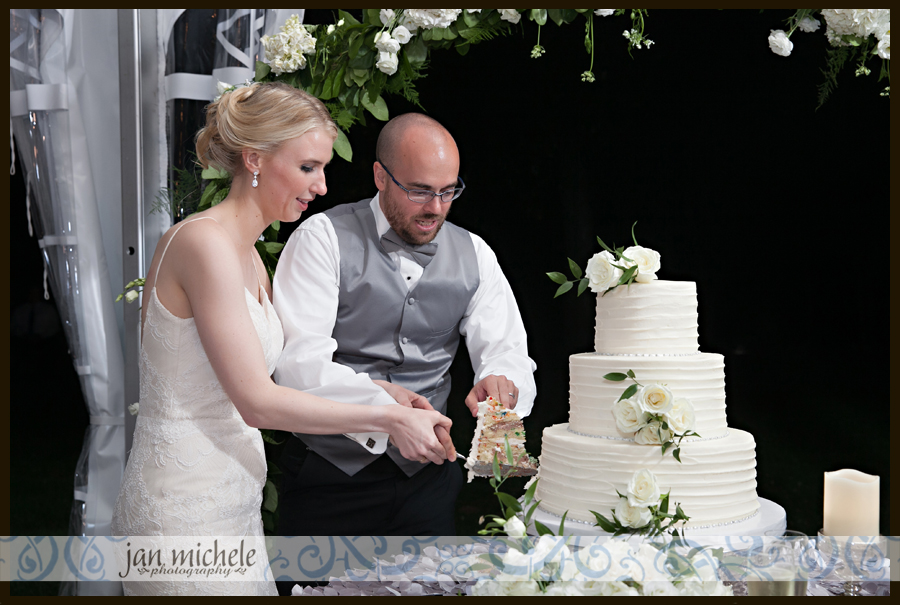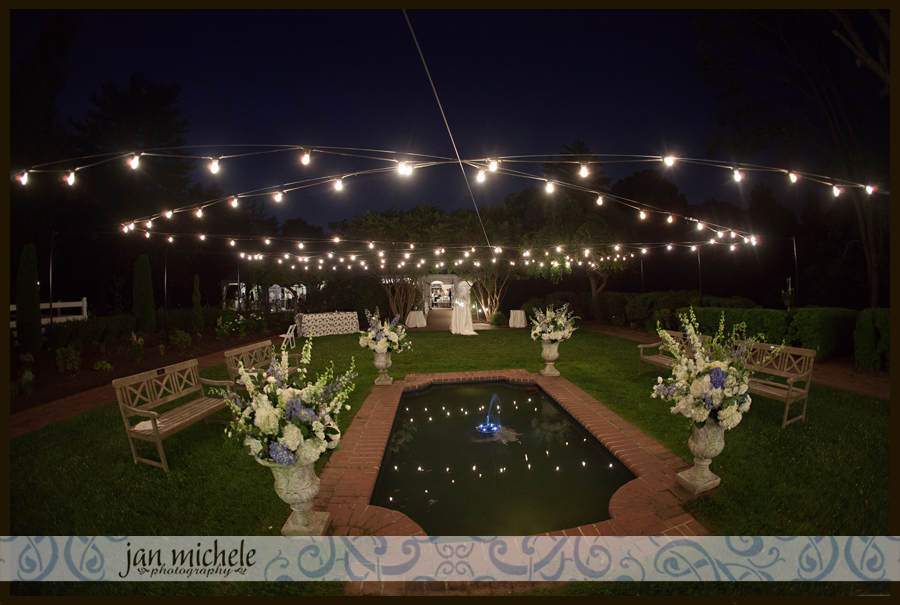 Twilight with string garden lights is perfection!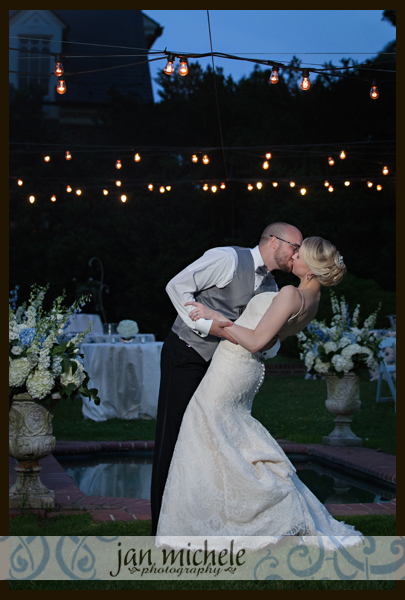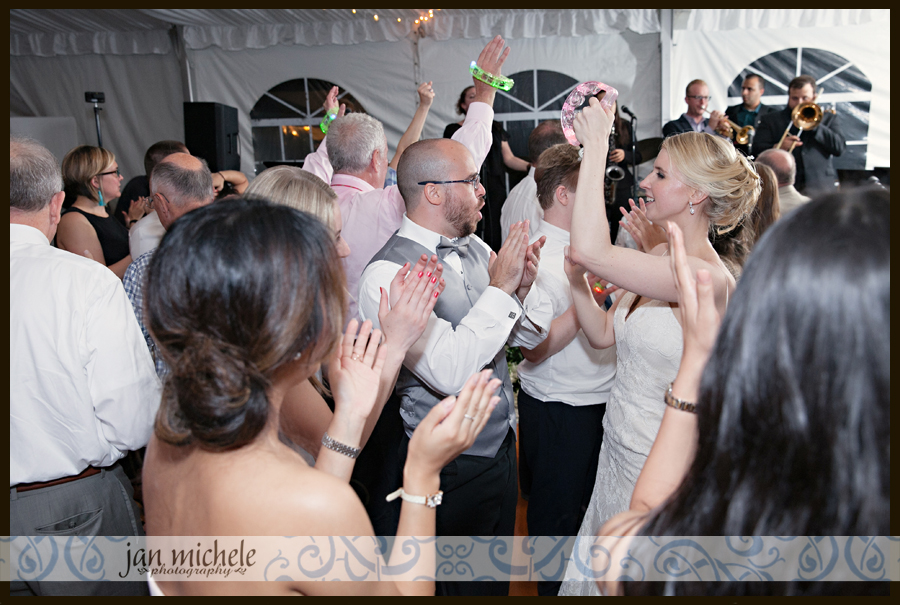 Lots of dancing fun with this great band! 
Exiting to well wishes and streamer wands!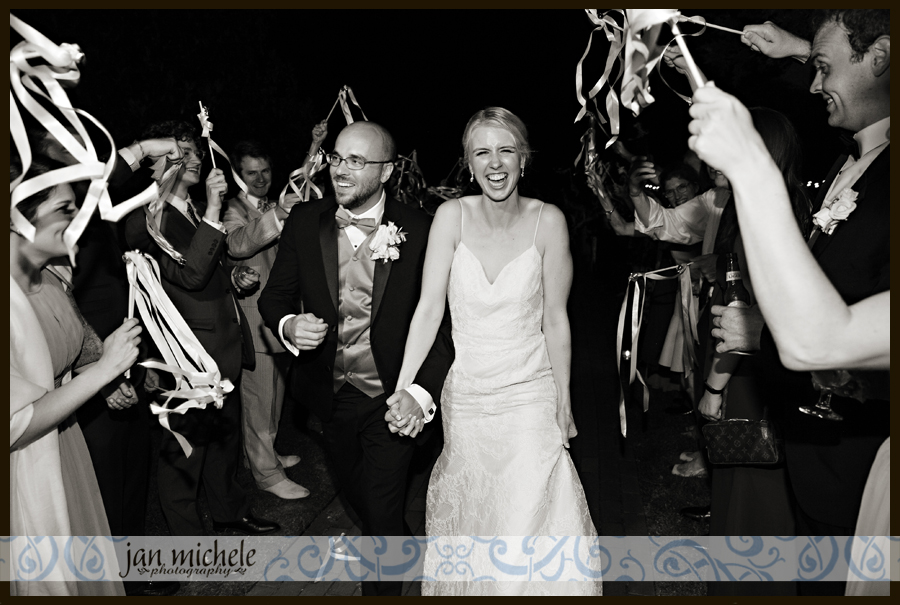 Getting ready hotel:  Alexandrian
Wedding venue: Woodlawn & Pope-Leighey House
Music: Ceremony and Cocktail hour: DaVinci Strings, Reception Band: Bachelor Boys
Florist: Eight Tree Street
Hair/Makeup: Bombshell Blowouts, Naida Azaz
Planning/Invitations/Day of Coordination: Added Touches by Terry
Photographer: jan michele photography
Videographer: Delta Studio Productions
Cake: Fluffy Thoughts Cakes
Catering: Design Cuisine